My Little Dude is starting to make his own friends and get invitations to birthday parties so I thought it was about time I built up a stash of handmade birthday cards for little boys.
---
Digital Stamping
I've used a digital stamp from Polkadoodles, it's called Dragon Onesie and it's from their Little Dudes collection.
I love, love, love using digital stamps! There are so many amazing designers all over the world offering quirky and unique digital stamp designs. I particularly like the stamps from Polkadoodles as they're always so stinking cute without being too cutesy if you get my meaning!
This digital stamp is a new addition to my collection but it was released years ago. I regret not buying it sooner as it was such a fun design to colour.
I print my digital stamps onto Winsor & Newton Bleedproof Marker paper. It's bright white so my colours really pop and it also helps to stop the inks bleeding into each other.
I've coloured this little cutie with my Winsor & Newton BrushMarkers. Here's the shade's I've used:
---
Designer Papers
I'm a big fan of First Edition papers but this Grand Plans stack has been in my stash for a while. I don't seem to have made many cards for boys lately.
---
Die Cutting
I use dies to make frames around my digital stamps. I always colour my image first in case I make a mess of it then I use a glue stick to glue my image onto a piece of plain printer paper to make it thicker and more stable.
Then I choose a die shape and size that suits my image and run both papers together through my die cutting machine. The pressure forces them to stick really well together.
On this card I've used two different circle dies to make a circle shaped frame around my coloured digital stamp. The outer circle is cut using my XCut X-Large Nesting Dies, Circle and the inner circle is cut using XCut Nesting Dies, Circle.
I think they look a little plain with just a white background so I like to use distress inks to add a bit of colour around my images. I use a Blending Tool to sweep the ink onto the edges of my die cut shape. For this card I've used Mowed Lawn and Squeezed Lemonade.
I've embellished my card with die cut stars. I love using my star dies for boys cards instead of flowers, they add the same "little bit of something" without being remotely girly. I've used the Star Flourish Die set from XCut.
---
A Little Embellishment
I love to add just a teeny touch of sparkle to my cards and I usually do that with a little set of three gems in one or two corners. I love how it adds a little bit of interest to an otherwise plain corner. I always use craft tweezers to make sure I get the teeny tiny gems perfectly positioned.
---
Happy Birthday Greeting
This is a new style of greeting for me. I've used a strip of washi tape and stuck it to a strip of scrap card. Then I've trimmed it to leave a little border and stuck it to my card with 3D foam pads so that it stands out a little bit. I think the fun lettering style goes well with this little boy's card.
---
Take a Peak Inside
I think it's such a shame to receive a beautifully decorated card only to open it and be faced with a blank page. So I use more of my designer papers to decorate the insides of my cards. I mostly use scraps leftover from the main design and a 10cm square of plain paper to write a nice message onto.
Sometimes I have some leftover die cuts like these stars. They've come from the insides of the stars I've used on the front of the card.
---
Products I've Used
---
This card is availible to buy in my Etsy shop.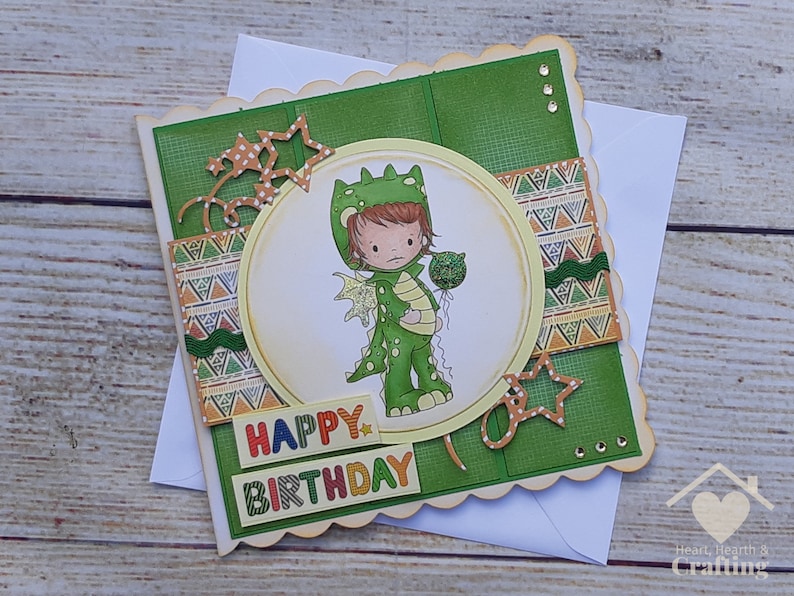 ---
I do hope you have enjoyed having a peak at my latest card making project. Please feel free to use my handmade cards to inspire your own creations, pin it to your Pinterest for later.
---
Linking Up To: Cheerful Sketches September Challenge . Digi Choosday Challenge #36 – Anything Goes . Polkadoodles Challenge #36 – Anything Goes . LeAnn's World 101 Challenge #42 – Anything Goes . Let's Craft and Create Challenge #175 – Lots of Layers . Creative Moments Challenge #222 – Anything Goes . Paper Shelter Challenge #482 – Ribbon, Lace and/or Twine . Simon Says: Sparkle & Shine . The House That Stamps Built Challenge S821 ~ Sparkle and Shine . Addicted to Stamps Challenge #413 – Birthdays
---
A Little Bit About Me . . .
Thank you so much for stopping by my corner little of the interweb. I'm Bridie, mum to two small humans, full time homemaker and full time craftaholic – which totally explains why I'm always short on time!
---
I've included links to my favourite retailers for the products I've used to make my crafts. Click on any of the product images and links for full details. If you decide to buy any of these products I may get a small percentage of what you spend. There's no cost to you at all.
---
---
---