Hello!!! Thank you so much for stopping at Heart and Hearth Crafting today! I'm so happy you're here!
If you're interested in sewing your own handmade felt heart wreaths then you're in the right place. Keep on reading and you will find everything you need to create this Valentines Wreath as well as all my best tips and tricks to make it fun and enjoyable.
---
Making Your Own Handmade Felt Heart Wreath
Making your own handmade Wreaths is a fun and relaxing (if addictive!!) hobby that will allow you to make truly personalised gifts for your family and friends. You don't need any fancy equipment or materials to get started. Don't get me wrong you'll want ALL THE THINGS but you can start enjoying crafting without spending too much. I love impressing my neighbours with unique handmade seasonal Wreaths that really make my front door stand out.
---
Crafting Supplies You'll Need
For this super simple craft project all you'll need is a heart shaped wreath base and some red felt. You could find a heart shaped template online, print it out and draw round it to make your heart shapes. For convivence I've used my new heart die from Sizzix. You'll also need some red thread.
---
Step 1: Cutting the Felt Hearts
Use the die or template to cut out hearts from the felt. I cut 8 hearts from each of the four colours to make a total of 32 hearts.
---
Step 2: Sewing the Hearts
Stitch each pair of hearts together using a blanket stitch.
Start by bring the needle up from the back of your work. Push the needle back into the felt about half a centimetre further along the edge of the felt shape. When you pull the thread tight catch the loop with the needle. Then continue to make the next stitch another half centimetre along the edge of the heart.
Once you've got within a couple of centimetres of the end of the heart shape pause. Stuff the heart with stuffing or scrap fabric and thread. Then continue stitching to close up the hole.
Leave a long tail of thread so that you can sew the stuffed heart onto the wreath frame.
Sew each heart onto the wire wreath frame. Try to sew each one in at least two different places so that it doesn't slide about.
Keep stitching more heart stuffies and sewing them in place until the whole wreath is covered in soft stuffed hearts.
---
Get your own Heart Wreath Frame from my Etsy shop and get started making your own felt heart wreath in time for Valentines.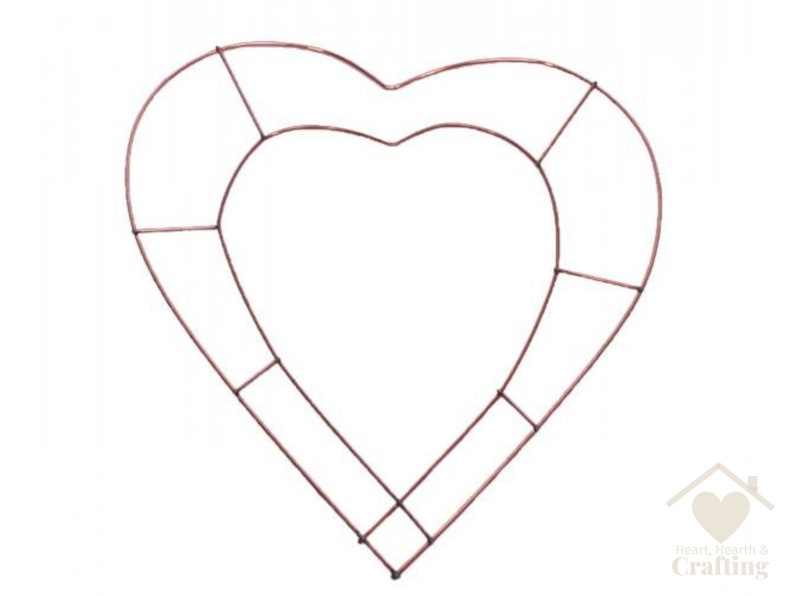 ---
I do hope this wreath making project inspires you to have a go at making your own handmade wreaths. Follow me on your favourite social media channel to see more craft projects like this.
---
Pin it Now, Craft it Later
Save this felt heart wreath craft project on your Pinterest board for later.
---
A Little Bit About Me . . .
Thank you so much for stopping by my corner little of the interweb. I'm Bridie, mum to two small humans, full time homemaker and full time craftaholic – which totally explains why I'm always short on time!
---
I've included links to my favourite retailers for the products I've used to make my crafts. Click on any of the product images and links for full details. If you decide to buy any of these products I may get a small percentage of what you spend. There's no cost to you at all.
---
---